More signs of Spring
Mood:
energetic
Now Playing: Four Tops "When She Was My Girl"
Topic: Various things
What can I say? Bob and Phyllis from the
Wool Connection
provided a lovely weekend (again) for knitters in New England. Although this year, I met one woman from Cincinnati, and I heard there was another knitter there from Virginia.
I was unable to make it to yesterday's class lineup, due to both of my boy's having their birthday parties, but I was there today, taking "Muchos Ponchos" by Melissa Leapman. I must say that Melissa is one of my favorite teachers of all time. She works us hard, and expects us to learn, but she also makes class a lot of fun, and I've always come away with a new way of looking at things, and new techniques. Plus, she has the BEST handouts, which is always a plus for me.
After the class, I went up to the WC, which was open today for those of us in the classes, and purchased "Cozy Crochet" by Melissa, some Kiogu so that I can make a quick shawlette for a shawl exchange I'm in, and some notions that I've needed.
All in all, I had a wonderful day. To me, the EW is one of those "signs of Spring" for me. This was the 8th year that I've gone, and I wouldn't miss it for the world. I'm completely jazzed by spending the day with like minded people, and teachers that inspire us to stretch our minds and boundaries in our fiber arts.
Here is my small haul from the WC: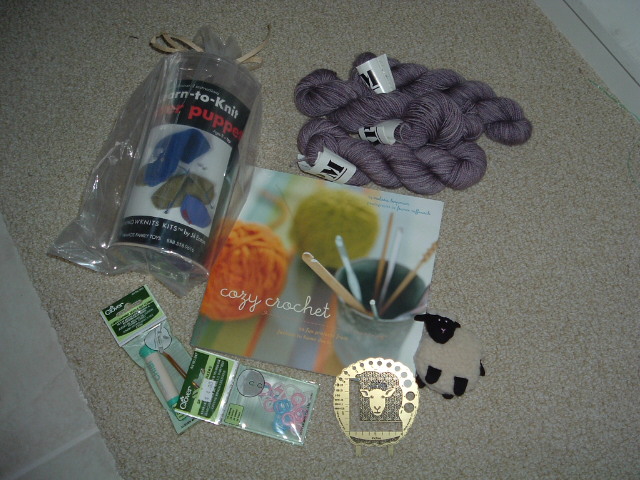 And for those that need a bunny fix, here they are at 9 days old: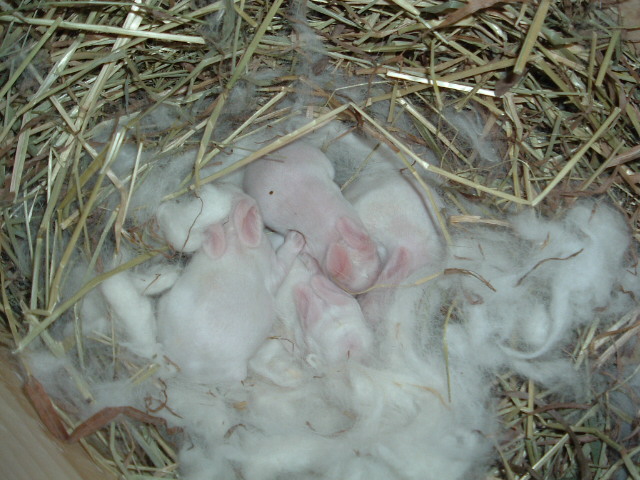 They just came in from their daily feeding with Mia, and are plump, happy and content. It's snooze time for them. :)

I've also set up the classes with Melissa Leapman to be held in Amherst in September. We'll do one day of knitting classes, and one day of crochet classes. Melissa has released "Cozy Crochet" which is for those of us that are crochet impaired. It has projects for beginning and intermediate crocheters. Her next book, called "Cool Crochet" will be out next month, and is fantastic! None of those crocheted things that we remember from the 70's, but designs that inspire and are fresh. She'll be bringing copies of "Hot Knits", "Cozy Crochet" and "Cool Crochet" in September to sell, which she will also autograph. So be prepared to be dazzled! Bay Colony Farm will also be selling Grafton Fibers crochet hooks and knitting needles (straights and circulars) at the classes too. A list of the classes will be put on the Bay Colony Farm list on Yahoogroups (to subscribe, send me an e-mail, or go to www.baycolonyfarm.com and you can subscribe at the bottom of the home page) and also on the website (but the website might take a few days, as my webmistress is up to her eyeballs in work). Stay tuned!

Posted by baycolonyfarm at 6:05 PM EDT
Updated: Sunday, 10 April 2005 6:12 PM EDT