The current project
Mood:
rushed
Now Playing: The Fixx "Saved By Zero"
Topic: Fiber
Helen on NETA asked what our current project (WIP) is on the needles. Well, here it is: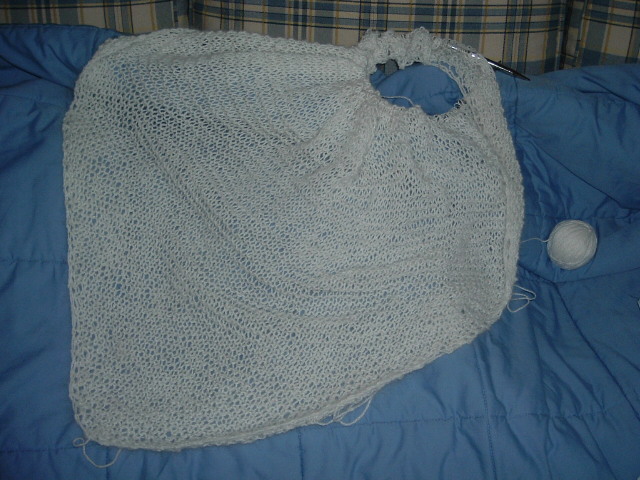 It is a shawl of my own design made from the IAGARB co-op yarn, which I participated in (there is something unique about the shawl, which you can see at Cummington once it is finished). The yarn is a blend of 85% German angora, and 15% wool in a fingering weight. It is heaven to knit with and has a lovely bloom. The people that have felt this all get the same expression on their faces when they touch it (or the yarn I have put out for sale); it's a "Oooooh, this is SO soft" look (and usually that is what I hear them saying).

I guess I'm spoiled, because I have these lovely German angoras in my barn, I've become quite nonchalant about the feel of it. Sad, isn't it? ;-)

And for those that have asked, here is a picture of the new Hitchhiker wheel: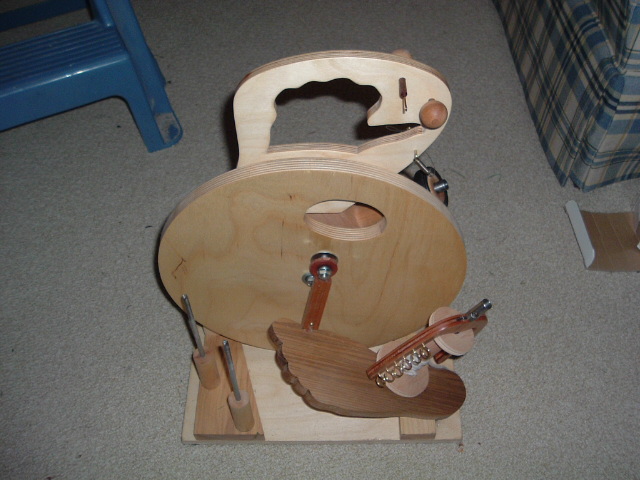 Tonight I'll be up in Cummington helping out for MAS&W. Five days to go! I love this fair; it is my home state fair, and the first one I vended at four years ago. I've been attending this show since 1997, and I really adore it. It is small enough so that kids can feel secure in the fairgrounds, and parents are o.k. with their kids getting a few feet a head of them, but yet large enough so that there are over 60 vendors this year (some really cool new ones at the back, by the stalls and food concessions!). And the diversity of the vendors is really branching out. I think you'll be surprised to see some of the new additions this year.
I'm looking forward to the Thriller potluck, which is always a culinary foodfest. And there are several Thrillers kind enough to bring lunch to those of us that can't be there in the middle of the food. It is ALWAYS greatly appreciated!




Posted by baycolonyfarm at 6:51 AM EDT
Updated: Monday, May 23, 2005 7:02 AM EDT