Shearing party and felting classes!
Mood:
bright
Now Playing: Toto "Africa"
Topic: Class information
I was out and about today and saw this at the end of my day. How is this for a sky picture?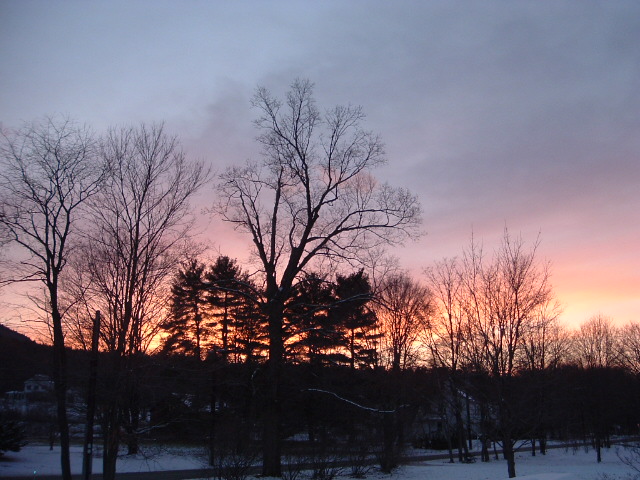 Now, for those of you that have angora rabbits, have you ever wanted to learn shearing techniques, but were afraid to ask? Now is your chance!

District 7 within IAGARB is hosting a shearing party with potluck lunch on January 15th in Amherst. We'll be there shearing our rabbits, but anyone with an angora rabbit that is mite free and healthy is welcome to attend and learn how to clip the rabbit's wool. Shearing can be a fun and rewarding experience for you and your angora, and we are willing to show anyone that wants to learn. You'll learn how to settle your rabbit so that you are both relaxed and we'll also share how to make bunny coats for the rabbits to wear until they have grown back enough wool to not need a coat.
Charlene and I will be able to certify any IAGARB members that want to put their rabbits up for registration on April 14th. We'll also have a bit of show and tell, so if you have any thing that you've made from your angora, please bring it along to show off! This is a party, so come join us! If you want more information, please e-mail me directly at Baycolonyfarm @ aol . com

Now, since we are having a registration on April 14th, Leslie Samson will be here to teach some classes. We'll be doing the Felted Mittens on Saturday, April 15. Leslie has new techniques to teach since she last taught this class here in November of 2003 and I can't wait to learn them! On Sunday, April 16th, we'll be doing a Felted Hat class. I don't have pictures of a felted hat yet, but I'm bugging Leslie for one. Leslie has over 20 years experience in felting, so come learn from one of the best! She'll have interesting stories from her recent Japan trip to share with us. Her trip included 2 gallery shows of her beautiful felted coats, and she also taught several felting classes too.

The classes are $85 per day, or $160 for both days and run from 10 a.m. to 5 p.m. We break for an hour lunch around 1 p.m. and there are lots of area restaurants to choose from, or bring your lunch and relax. The final registration date is March 15th, so get your registrations in early! Again, e-mail me for more information or a registration form.

Posted by baycolonyfarm at 5:03 PM EST