When the going gets tough....
Mood:
bright
Now Playing: ABC "Poison Arrow"
Topic: Fiber
The tough get dyeing!
A trip to WalMart this morning solved one of the problems I have having, which was not being able to dye fiber quick enough. The rain we've had has slowed the process considerably. So this morning, I hit WalMart with the idea of buying roasting pans so that I could dye in my oven (something I normally wouldn't entertain, but I've got a lot to finish before Rhinebeck). After checking out the turkey roasters, and really thinking about it, I came to the conclusion that dyeing in the oven wasn't a great idea. My kitchen is on the second floor of my house and even though I have a nice (but small) deck off of this area, it doesn't have steps down to the ground. So I would wind up carrying dye pans down a flight of stairs, through the newly carpeted family room to the first floor deck. I had visions of all kinds of disasters, including triping over some toy on the floor, dumping a pan of fleece and dye water, and ruining my new carpeting. Not a good idea.
So, the answer was this: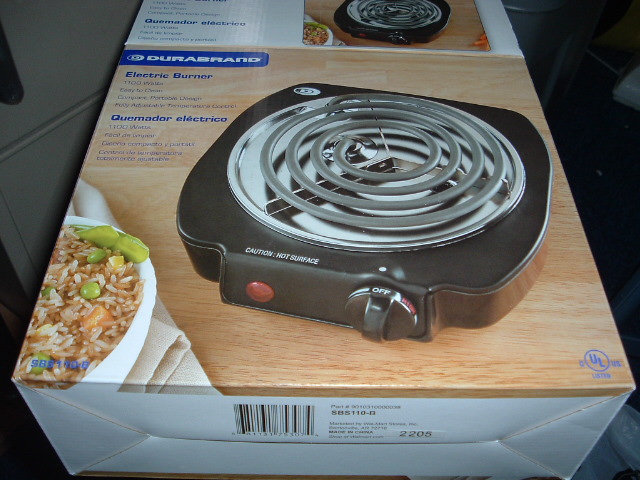 A Durabrand Electric Burner, which was less than $9.00.

Add that to my electric turkey roaster, I can now do 4 pounds of wool at a time.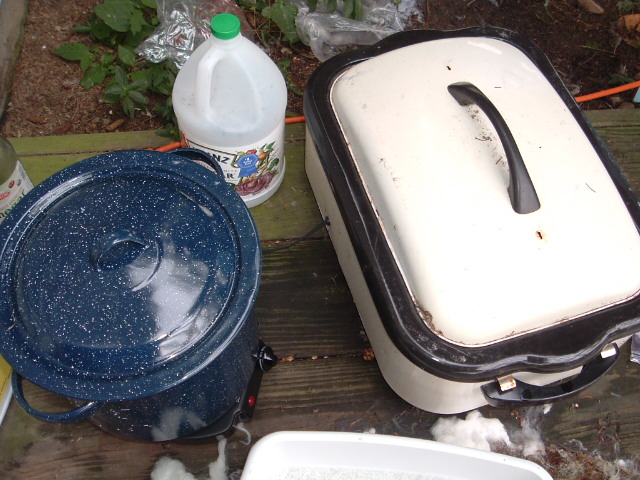 I've already dyed over a pound of wool this morning, between 8 and 10, and if I can keep this going, I'll have all of my "need to be done NOW" dyeing completed by tonight. Then I'll take it all into the office, where the dehumidifier is going, and it will be dry by tomorrow morning.

Posted by baycolonyfarm at 11:36 AM EDT