And away we go!
Mood:
bright
Now Playing: Smokey Robinson and the Miracles "I Second that Emotion"
Topic: Fiber
Remember this?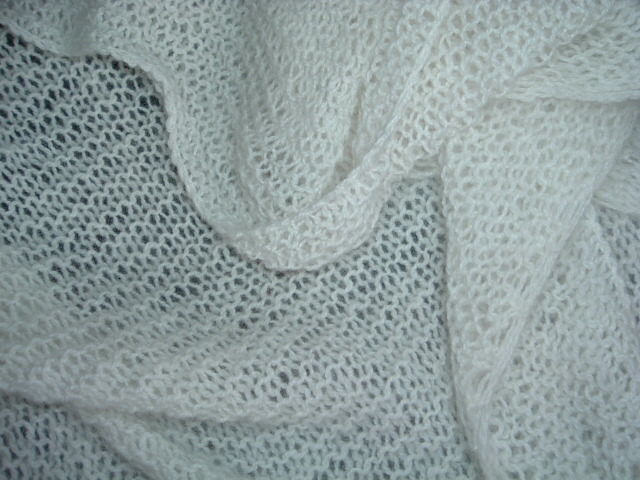 It's the shawl I knit last fall from the IAGARB yarn from our co-op. I have another 5 pounds coming to me shortly. So it's time to get dyeing! I'll be using the microwave in the garage for this venture instead of the roaster. If anyone has custom dye orders, please let me know. I'm always willing to dye things to order. :)

Anyway, IAGARB is sponsoring a pattern promotion for the IAGARB yarn. Our goal is to get people to realize that angora yarn is a wonderful fiber to work with, and that no rabbits are harmed or killed in the shearing process for their wool. So, if you have an original pattern, please check out the promotion. And anyone that contributes a pattern to IAGARB and buys their yarn from me, will get a small gift from me (you'll still be entered in the IAGARB contest; but you'll get a small gift from me too).

Now, for the knitting content:
I'm also going to start working on a knitted shawl. I have some Marine Blue Jaggerspun wool/silk blend, and the Fiber Trends Flower Basket Lace Shawl. I'm feeling a real need to get back to fiber work, which is something I was feeling burnt out on all winter long. I know, winter is the best time to be working with wool, but what can I say? I'm hoping that working on one project instead of having multiple WIPs will keep me content like it has Cassie.

Posted by baycolonyfarm at 11:18 AM EST