Actual Knitting Content? No way! WAY!
Mood:
incredulous
Now Playing: Bryan Adams
Topic: Fiber
Last week this arrived: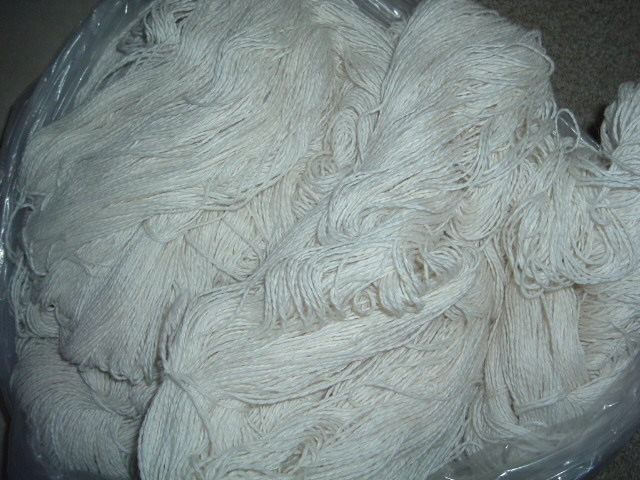 Five pounds of millspun 85% angora/15% wool in a fingering weight yarn. This is from the IAGARB yarn co-op that has been set up for members.

So I grabbed a skein on Friday and set out to wash it to see what it would look like. And here is what I started working on last night: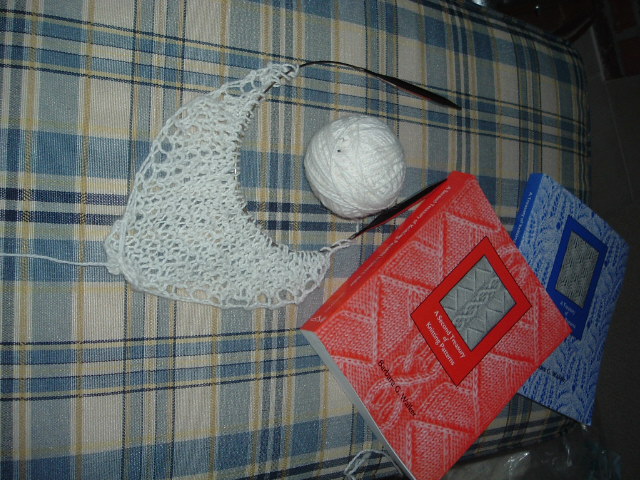 Yes, I confess to going through two of my three Barbara Walker treasuries looking for lace patterns. Even picked a few out, but right now I just can't handling doing something that requires more than easy knitting, as I'm currently working three jobs, and I'm exhausted at the end of the day. Anyway, I want this to be finished in time for NHS&W so that I can wear it there (hey, I'll have washed skeins with me to sell, and people like to see exactly what you can do with the yarn). I might even dye it after I'm done knitting.

So, that is my goal; one finished triangular shawl in two weeks. I think I can do it.

AND (Drum roll please!), WEBS will be selling Bobbin Trees! So now they are carrying Bay Colony Farm's angora/wool blend batts, and the Original Bobbin Trees. (Helen doing the Happy Dance here!)

Today is finish the newsletter day, and prepare for a meeting later tonight, if I can't get my co-chair to move it to next week. If we move it, then I go to work tonight with DH and get more of those pieces ready to send out. I must get that done quickly, as I have 14 fleeces coming, and I have to process those before NHS&W too. :)

Oh yes, on the house front. I've finally picked out my flooring for the bathroom. This is my fifth attempt to find something (floors one and two were going to run me $1,200 and $1,900 respectively; for a 30 sq.ft. space? I think not. Floor three was only sold in 12 foot widths, and floor four was discontinued). It is a commercial grade flooring, currently made, and it looks nice with my "Colonial Cream" colored walls, and my Berber carpeting in the hallway. Once I get that ordered, it's 2 weeks until installation! Do I actually see a finished bathroom on the horizon?


Posted by baycolonyfarm at 7:10 AM EDT
Updated: Saturday, June 18, 2005 8:04 AM EDT