So much to talk about!
Mood:
celebratory
Now Playing: The Beach Boys "All Summer Long"
Topic: A bit of everything
I had a great birthday yesterday! My friend Carolyn of Pink Peppercorns biked all the way over here and we had lunch together. She brought me some of her wonderful soap (which I'll have to hide from DH as he loves her handmade soap!), as a present, but her presence here was present enough. :)
My mom also took us out to dinner at Applebee's last night. It wasn't the marinated flank steaks I had planned to grill, but the steaks looked really pathetic at Stop & Shop, so I didn't buy them. Mom's idea of dinner out was a better idea than anything I could think of to cook, so we got steaks there instead. And the boys were happy because they got to pick their food out from the kids menu, and not suffer through something at home that they didn't like to eat. *grin*
Thank you to everyone that sent birthday wishes. They really made me smile! :)
The Contest
Dharia
posted her entries into the contest yesterday. You can see her ideas on the comments section of yesterday's blog post.
Keep them coming! We have a lot to choose from! :)
And now for knitting
Knitting? Yes, I'm trying to locate my
Creatures of the Reef
shawl pattern that I purchased several years ago.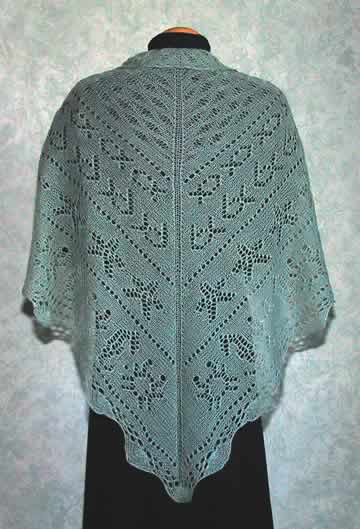 Lord knows where it is, but I'm determined to find it. I've seen completed shawls on other people's blogs. I desperately wanted to knit this a while ago, but picked a yarn which was hell to knit with and I ripped it out. So this time, I'll head over to Webs and pick up something more suitable.
I am resisting Birch. If I decide to make it, I'll use the Kiri pattern instead. It's the price of the yarn that is hindering this for me. And I'm not completely sure I want to knit with mohair in the heat of the summer, especially since I don't have A/C in my house.

And on a completely different front, my cousin Angela called me yesterday. She's been able to get me two passes to the "Meet and Greet" for Def Leppard when they are preforming in Brockton on July 6th. How cool is that? I've been a fan of their music since 1983, and Ang knows people in high places in the music world. I'm completely psyched about this! They have teamed up with Bryan Adams to play a "Double Header" at 26 minor league baseball parks across America. I'm a huge Bryan Adams fan too, so this will be incredible! I can't wait!

Posted by baycolonyfarm at 8:18 AM EDT
Updated: Thursday, June 23, 2005 8:46 AM EDT