Remember this?
Mood:
energetic
Now Playing: Jimmy Buffett "Brown Eyed Girl"
Topic: Fiber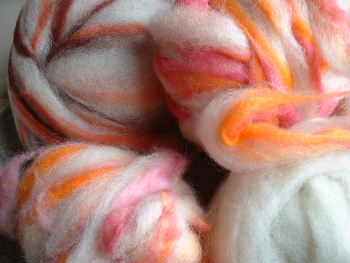 The two balls of roving on opposite ends*? I made this up last year just before MAS&W. It's called Creamsicle. I'm making more of it next week. I just sold the last amount this past weekend, and people love it! They adore the color combinations. Last year Pogo from Friend Folly Farm made the roving for me, but this year, I'm making the batts myself. There shouldn't be that much difference between the two, and I'll try to keep the colors separate like they were before. Last year it was an Icelandic/angora blend (the angora being the dyed wool), but this year I might try it up using some of the other wools I have. I still have Icelandic fleeces to use, so don't worry; I'll make some up using the Icelandic too. :)

*Photo courtesy of Claudia.

Posted by baycolonyfarm at 8:13 AM EDT