What I did today (besides almost sit on the cat)
Mood:
bright
Now Playing: Hall & Oates "Family Man"
Topic: Knitting
See this?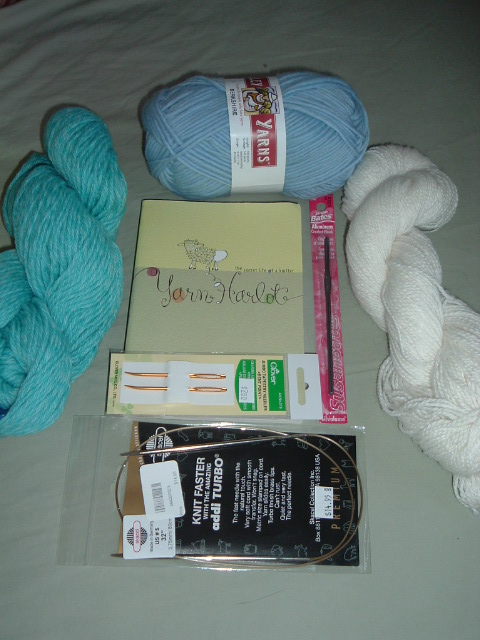 I hit Webs today. I needed to talk to Kathy anyway, but I wanted to check out the Berkshire yarn after reading about it first thing this morning in Knitters Review. So between taking coffee to my husband, and visiting my dad, I headed off to Webs.

Yesterday I had asked for comments on yarns that would work for the Rogue, and Teresa suggested several including Cascade 220. So I go into Webs and start looking around. I am directed to the Berkshire and the Cascade 220. Color choices abound with these two yarns. But I decide that I really like the tweedy looking turquoise blue Cascade, so I pick up that. And then get some #5 Addi Turbos for the Flower Basket Lace Shawl pattern (yes I bought another one, which I forgot to add to the photograph), the Yarn Harlot's book "the secret life of a knitter", and some jumbo tapestry needles for sewing in ends (that white yarn in the picture is the Alluring yarn which I will use for the FBS). I leave Webs and head to visit my dad. An hour later, I'm on my way back up to Webs after realizing that I need a crochet hook to start the FBS. So in I walk and get my crochet hook, but also go back to the Berkshire yarn. Yes, it sucked me in. I'm going to swatch that too along with the Cascade 220 and see which one I like best for fabric. The colors I'm equally in love with, although if I do the Rogue in the Cascade, it will look more summery than it is probably intended. We'll see; I might decide that it looks very cool.

I'll keep you posted.

Posted by baycolonyfarm at 2:25 PM EDT