It's all about technique
Mood:
cheeky
Now Playing: Elton John "Philadelphia Freedom"
Topic: Show
Saturday's Spin-In was a huge success! I spent over an hour demoing at the
Fiber Arts Center's
booth, which was located inside the craft fair. I answered a lot of questions, and directed people over to the Spin-In tent on the north side of the common. For most of the day, we had at least one newbie sitting at a wheel, learning the basic techniques of spinning. Some people picked it up right away, like they knew what to do, even though they had never spun yarn before. Other people had a bit more trouble, and when that happened, we would switch them to a different tool; say from a wheel to a spindle.
I'm a wheel spinner. It is what I learned on first. However, that isn't the way it works for everyone. Sometimes people get so involved in treadling, that they forget to let the twist run up the yarn, creating something that kinks extremely fast. So when that starts to happen consistently, it is just time to try a different technique and tool. Spinning tools work differently for each person. I love spindles; the way they look, the sheen of the wood, the different types of wood that spindles come in, but it isn't my forte because I haven't
practiced
enough. And there are people that learn better on a spindle than a wheel. One of our last students was like that, and by the time she left, she was spinning a nice single on a
Grafton Fibers spindle
.
The other thing that I want to stress to people is
never
tell a new spinner that a fiber is too difficult to spin. That is negative thinking, and once that is in a person's mind, they get caught up in the thought process that leads them to believe that spinning something like angora is too difficult for them to even try. It's all about technique. If you can spin one fiber, I think that you can spin them all or at least
try
. Various fibers take different techniques, and even though you may not have mastered spinning one fiber, that doesn't mean that it is difficult for everyone. But telling people that something is hard to do leads most of them to believe that they can't do it either and what is the point of that? If someone said that Romney was too hard to spin, would you believe them? Probably not, because it is a great fiber with which to learn spinning. The thing we need to be doing is encouraging spinners to try spinning
anything
, even if it is milkweed silk. Isn't life more fun with a great variety of things to try, rather than sticking to one tried and true method? :)
And if you didn't have enough fiber pictures lately, here is my latest purchase from my friend Caroline of Falling Leaves Farm (e-mail me if you'd like her contact information since she doesn't have a website). It's a black suri alpaca fleece. Isn't this gorgeous???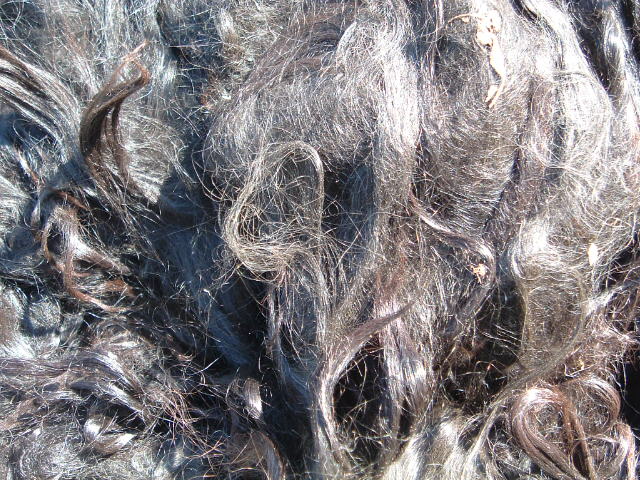 The staple length is 5 inches. It will be washed later today and then carded with dyed angora for batts.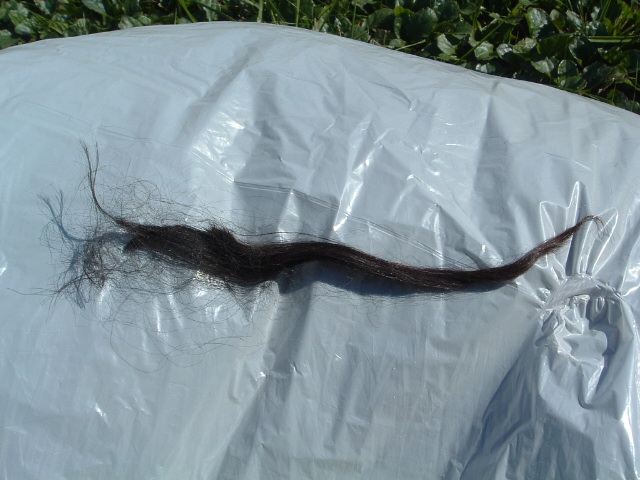 Posted by baycolonyfarm at 11:53 AM EDT